ETHEREUM is supported by the psychological level 3000. Our STS_ATR_Distance_Indicator shows that since the beginning of the Month the price has passed 80% of its Monthly ATR (Average Monthly movement for the last 6 months). The ZIG ZAG M30 indicator (50 periods) starts at the beginning of the Month and is unusually large. For the Crypto Market, we use the ZIG ZAG indicator with a big period - 50. Currently, the indicator shows that for the last 50 M30 candles, we have $ 1000 directed downward movement, without an ascending ZIG ZAG 50 period.
Based on this logic, we created our STS_Zig_Zag_Bot which opens long positions on each candle in which we have a ZIG ZAG value and closes the positions when a reverse ZIG ZAG (ascending) appears.
For the moment, our Bot has opened 4 long positions in 4 consecutive Bearish candles, in which there was a ZIG ZAG. The Trading Robot is set to close them when a reverse (ascending) ZIG ZAG appears. The STS_RSI_MTF_Indicator shows oversold Daily and Weekly frame, which is an additional argument in favor of long positions.
Get your STS_Zig_Zag_Bot now: https://smarttradingsoftware.com/en/expert-advisors/prd/sts-zig-zag-bot/
Get your STS_ATR_Distance_Indicator now: https://smarttradingsoftware.com/en/indicators/prd/atr-distance-indicator/
Get your STS_RSI_MTF_Indicator now: https://smarttradingsoftware.com/en/indicators/prd/sts-rsi-mtf-indicator/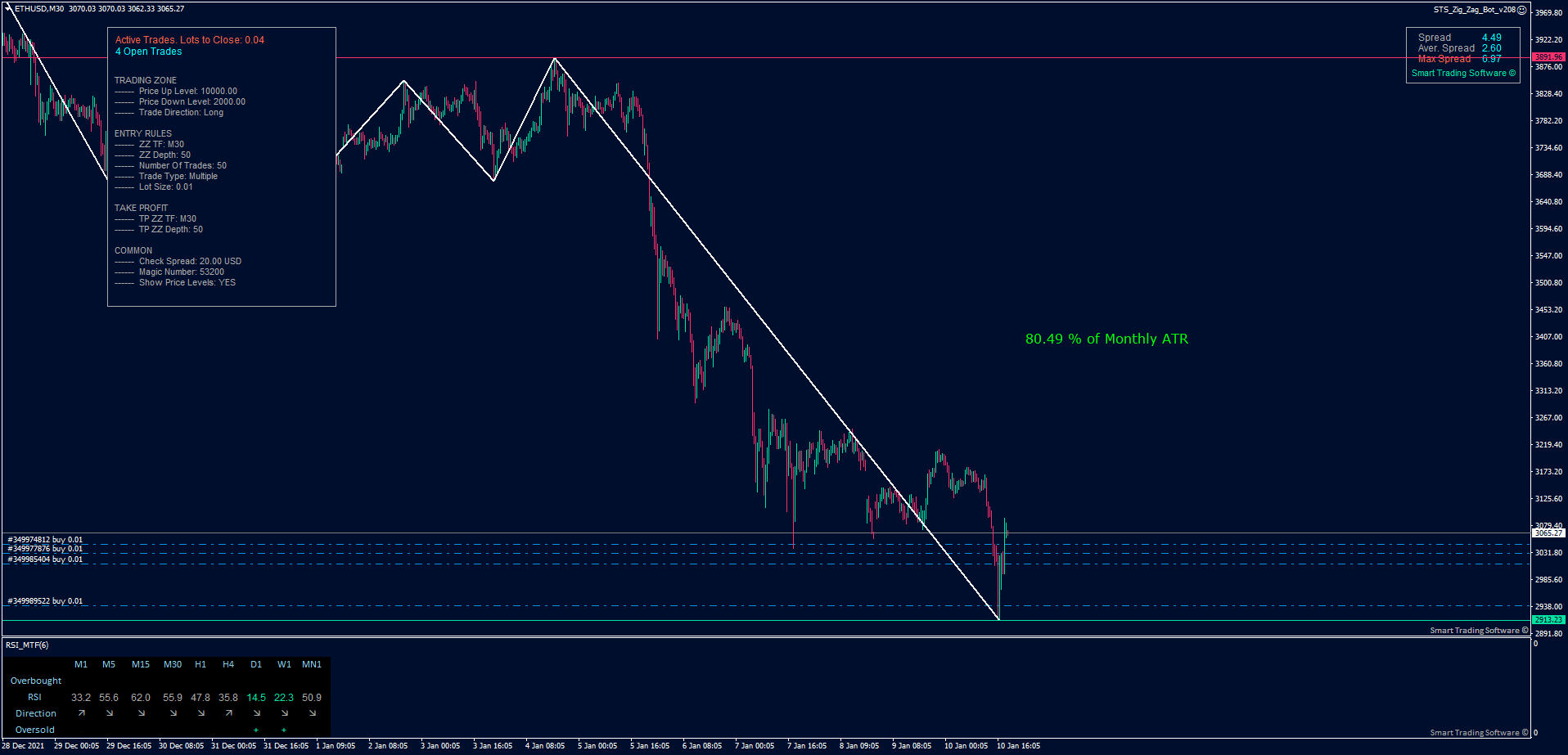 Visit our Crypto Signals section to receive real-time trades from our Trading Robots. Get your FREE Crypto Signals Plan now and follow our Crypto Trading Signals for 30 days absolutely free.